What Happens To A Long-Term Relationship When One Partner Transitions?
Author Emma Batchelor is the winner of The Australian's Vogel Literary award for Now That I See You, a novella based on her experience of witnessing her partner transition, an experience that she has written about in his exclusive essay for Vogue Australia. 
During the summer of 2018, I was becoming reckless. The midday sun was blazing and I had laid out a towel in my little backyard on which to sunbake and read. I was deeply depressed without yet being aware of it, my relationship was in free fall and I was so thoroughly sick of myself that I was losing regard for my own wellbeing. The book I had clasped sweatily within my hands was Normal People by Sally Rooney. Lying there, my skin burning and my heart constricting, I felt the first flare of desire to write fiction. I wanted to make a reader feel first and think second just as Sally was so effortlessly making me do.
Some months earlier my partner Jess had told me that she was transgender. We had been in a mostly happy, heterosexual relationship for six years before she was able to make that disclosure. Up until that moment I hadn't any idea that Jess had been feeling uncomfortable or had been questioning her gender. I was in shock and I didn't react as well as I would have liked.
For the most part we think of sexuality and gender as being discrete as well as static. We also tend to define or label our sexual orientation in relation to the gender of our partners. We also underestimate how heavily we depend on gender roles and binary thinking in our everyday lives and how much we are socialised to uphold them. It has taken me a lot of work to dismantle that thinking but at that time I had never consciously questioned my own sexuality or how important gender was to me in a romantic partner. Emma Batchelor. Image Credit: Supplied
Everything began to change as we attempted to untangle what being transgender meant for Jess' identity, my sexuality and our relationship. It felt too big and too much for either of us to handle. I began to put a lot of pressure on myself to be what I thought Jess needed and for a long time I put Jess and her transition ahead of my own needs. I lost sight of myself and I became depressed. This wasn't because Jess was transitioning; it was because of the way we were each handling the change.
Sometime in early 2019, as mental illness and uncertainty continued to set in, I discovered The Australian/Vogel's Literary Award. I had attended an event with Bri Lee who when discussing her book Eggshell Skull had commended her publisher Allen & Unwin. When I got home I idly scrolled around their website and there it was: a deadline, a goal, something to work towards, to distract me from everything that was going on in my personal life.
At that point I had been writing for years, mostly personal essays on fashion, identity, and sustainability but never fiction. I experimented with two short stories before naively, recklessly, launching head first into a novel. I was thirty thousand words in when Jess moved out of our home to focus on herself and her transition. Finding myself alone and without her, I became engulfed by depression and mired in self loathing. I could barely function let alone write.
Sign up to the Vogue newsletter
A part of me knew that I would write about what happened, but I hadn't realised I would want to do it so soon. With the help of antidepressants my desire to write crept back and I made another reckless decision: to abandon my previous manuscript and to write this story working toward the Vogel deadline. Each day I got up, attempted to work at my day job and then wrote obsessively late into the night.
Before I began writing, I weighed up different approaches to telling this story. At first I considered fiction; however, when I played out potential scenes in my mind everything I came up with that deviated from what had actually happened felt less powerful than the truth. I then thought about memoir. Majority of the memoirs I had read had a feeling of looking back and of reflection. They had a tendency to soften, to set the record straight or to settle scores. I found I wasn't really interested in that either, at least in the way I was conceiving of it.
I realised that I wanted the story to have immediacy, a viscerality. I wanted it to be open to interpretation. I had discovered autofiction through Motherhood by Sheila Heti and Crudo by Olivia Liang and had been challenged by it as a form. In making use of that format, in using myself as a character in a story that was presented as fiction, I saw the potential to open space. To suggest ideas and to create blurriness and nuance. I wanted readers to be able to project themselves into this story.
Crafting the plot and narrative arcs then became an exercise in deciding what to include from the long list of events I had put together based on my diary, journal entries, emails to Jess, and memory. What I cherry-picked from that list changed over time and with each draft. It wasn't until the third draft, for example, that I felt able to include my suicide incident. During my last pass before submitting my manuscript to the prize I remembered that Jess had tried to have sex with me in her sleep and I had let her. In order to include vignettes such as those I had to overcome my own shame about my behaviour and how I anticipated it being perceived. Emma Batchelor's Now That I See You. Image Credit: Allen & Unwin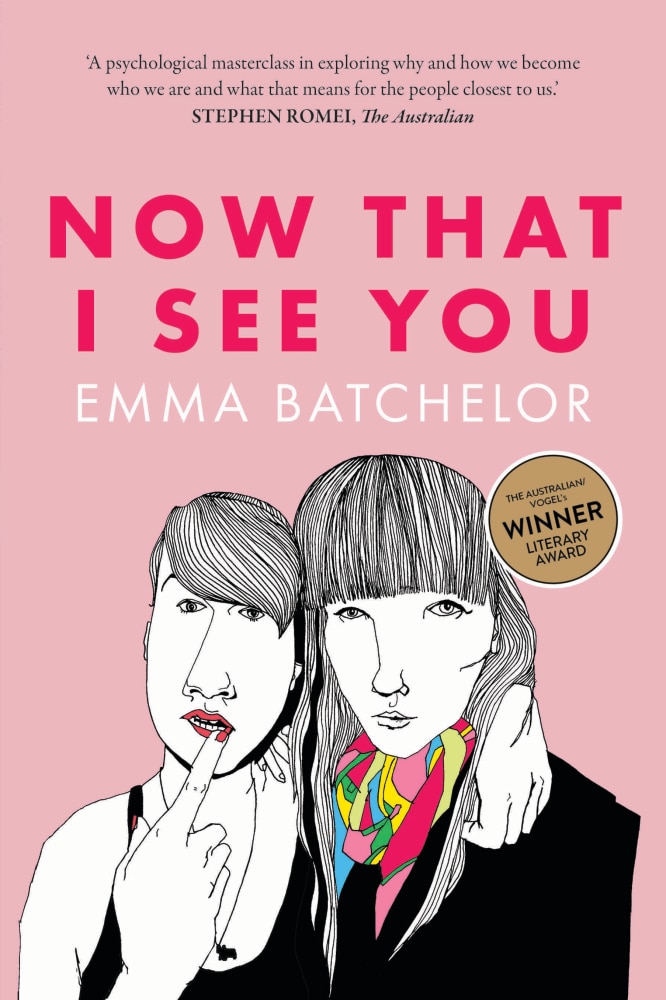 I'm not sure it would be possible to write from such an intensely personal perspective without having cultivated some degree of narcissism which can be difficult to acknowledge and sit with. I wouldn't have entered the Vogel or wanted to share this work if there wasn't some part of me that believed that what I have to say, and the way I am saying it, is important, of some value, and of interest to people other than me. That being said, my self esteem was cripplingly low at the time of writing and I suffered from an often debilitating hatred of myself. Each time I sat down to write I had to reconcile self interest with self loathing. That battle, that exhaustion had nothing and everything to do with the story I was writing and the process of writing it.
I have mined my own experience as well as that shared by Jess and I. I have been careful not to speak for Jess or to her experience; it is not my place. Too often the narratives we encounter about transgender people are typically damaging and dehumanising and are shaped by cisgender people. As allies we should be giving a platform to transgender people to drive their own narratives.
Now that I see you is ultimately a love story. While gender, sexuality, grief, and mental health are important themes, I am most interested in how they each intersect with and impact on love. I am deeply honoured that this story is being published and recognised in this way. It is my hope that in winning The Australian/Vogel Literary Award I will not only have a platform to discuss the themes of my book more broadly but that I will have the opportunity to grow as a writer and author through forging meaningful connections within the reading and writing community.
Source: EMMA BATCHELOR