The Best New Restaurants In The World: The Hot List 2021
For when we all get together again.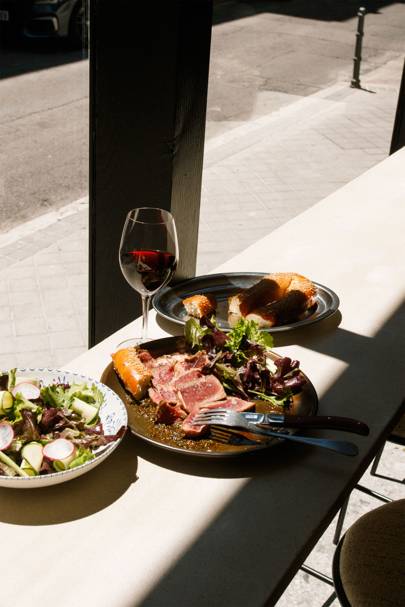 Having introduced their fascinating mix of Argentine and contemporary Israeli cooking to Buenos Aires four years ago, the team behind trend-setting Fayer (which translates as fire in Yiddish) chose the smart Chamberí district of the Spanish capital for their latest joint. With the aim of creating that same fiery soul, chef Mariano Muñoz has been imported from Argentina to lead the European outpost tucked into one-block calle de Orfila, a thoroughfare frequented by art gallerists and diplomats.It's split across two levels, with elegantly pared-back interiors and floor-to-ceiling streetside windows cleverly revealing the bar which tempts parched passers-by to refuel with a glass of southern-hemisphere Torrontés and a plate of hummus and freshly baked challah. Upstairs, diners can get a clear view of Muñoz and his team preparing kibbeh, empanadas and ricotta börek (filo pastry) in the glass-fronted kitchen. The beef is sourced directly from the pampas, while the showpiece is bone-in pastrami, a rack of ribs marinated in a decadent 13-spice blend for 10 days, smoked for eight hours then slow-roasted for 24 hours. For pudding, embrace both cultures and order the three-nut baklava plus dulce de leche. Celebrating Argentina's idiosyncratic parrilla culture as well as classic Israeli mezze, this is a delicious collision of two worlds and an upgrade to Middle Eastern fast food in the city – one that has blown open the madrileño tapas mindset
.Address: Fayer, Calle de Orfila, 7, 28010 Madrid, Spain
Telephone: +34 910 05 32 90
Website: fayer.com
Price: About £70 for two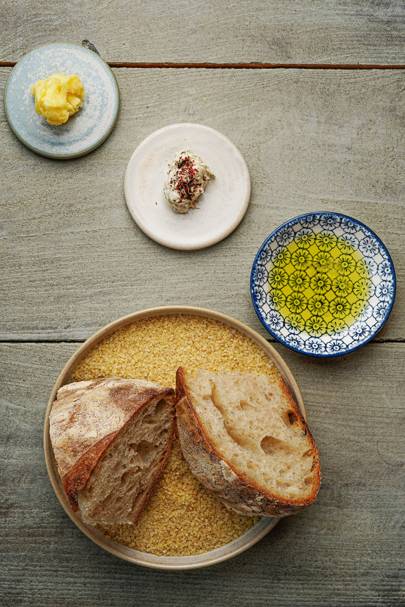 DEDE AT THE CUSTOMS HOUSECO CORK, IRELAND
In Baltimore, a pretty seaside village in West Cork packed with sailors and second-home owners, chef Ahmet Dede has been adding some exotic influences from his native Turkey to the local scene. Having only opened last July, Dede's restaurant was burnished with a Michelin star in January and marks a new chapter for him, though it's not his first star – he moved to Baltimore in 2017 and was awarded one for the now-closed Mews two years later. Behind the sea-blue exterior of this new space is a deli that opens onto a simple dining room, while out back is a courtyard with a wood-burning stove.Regulars return for the ever-changing menu of Turkish recipes married with the foraged and farmed bounty of the Cork countryside, and enlivened by spices sent by Dede's parents from Ankara. Weeknight barbecues are elevated by artful combinations – giant langoustines with charcoal butter, lemon, garlic and dried chillies or köfte with bulgur-wheat salad and pickles. At weekends there's a set menu where Dede's skill is showcased in dishes such as venison with buckwheat and orange, accompanied by a thoughtful wine list and local tipples such as Cape Clear Gin. Families also pile in for breakfast: his take on eggs menemen – adding aged beef fried with onions to eggs and tomatoes – threatens to topple the Irish fry-up as Baltimore's favourite brunch. Unearthing authentic ethnic flavours can often be hit and miss when you venture beyond Dublin. But this is proof that change is afoot.
Address: Customs House Baltimore, Customs House, Baltimore, Co. Cork, P81 K291, Ireland
Telephone: +353 28 48248
Website: customshousebaltimore.com
Price: About £70 for two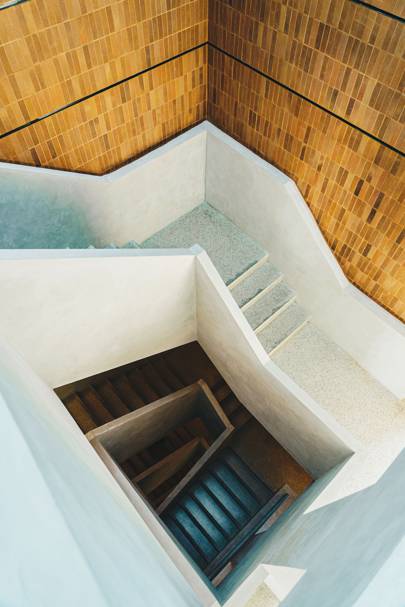 After chef David Thompson left the chart-topping Nahm in 2018, the question was never if but when and where he would pop up on the city's food scene again. This is his answer. Tiny Aksorn was launched late last year on the top floor of the original Central Store, a terracotta-clad creative hub built on the same Old Town spot where the family behind it opened their first bookshop in 1950. Thompson has pegged his menu in that period – a time when new ideas and ingredients from the West entered Thai kitchens and recipes began to take on Chinese and European influences. From the open kitchen, which spans almost the entire length of the narrow, six-table space, the team serve up tasting menus based on well-thumbed cookery books from the 1950s to the 1970s. Every two months, a different author informs the offering, with their recipes recreated as faithfully as possible – a challenge, given their brevity and lack of measurements.Expect hard-to-find dishes such as coconut cupcakes with spring onion and pork or hor mok moo, a red-curry pork custard, all served on flowery vintage plates with mismatched cutlery. But no plate sums up Thompson's bold new direction like the roast duck terrine with foie gras, Chinese mushrooms and sausage – a stark departure from the spicy, 19th-century-style cooking he made his name with, but a brilliant fit for this old-meets-new, East-meets-West corner of town. In a restaurant landscape dominated by royal recipes, Aksorn pinpoints a curious, often overlooked era of Thai cooking.
Address: Aksorn, 1266 Charoenkrung Road, Bang Rak, Bangkok, 10500, Thailand
Telephone: +66 2 116 8662
Website: aksornbkk.com
Price: About £130 for two
CHRIS SCHALKX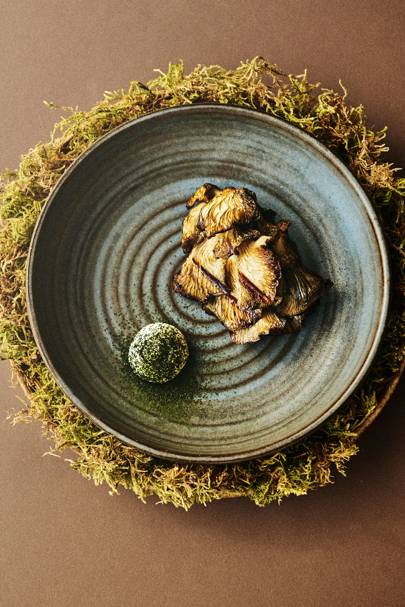 Considering its reputation as the ultimate foodie city (it went organic in a big way years before the rest of us, plus there's Noma), the Danish capital has been relatively lagging when it comes to the vegan wave. But this new opening changed that overnight as British chef Brett Lavender (formerly of Tokyo's much-loved Den) and Ark's Australian owners attempt to lure the pork-loving Danes over to the delights of rich, almost chicken-like blue oyster mushrooms or a vibrant green starter of avocado cream, peas and apple. The relaxed raised ground-floor locale, at a corner of a buzzing crossroads close to the Torvehallerne food halls, is furnished in a contemporary Scandi style – bare wood, no tablecloths.Happily, for all the visual cues, and the natural wines that dominate the list, the food roams beyond the usual Nordic tropes with southern European, Middle Eastern and Asian touches, such as the cauliflower steak blanketed with burnt shiso leaf and potato gnocchi with pureed pine nuts. The trick, apparently, is that the kitchen brigade is largely non-vegan, which means they strive to replicate the same umami quality and textures they achieve in meat- and dairy-based cooking – that and a special mushroom farm in the north of the city that specialises in unusual, meaty-tasting varieties. With more affordable little sister Bistro Lupa soon to join the gang, this forward-looking group is forcing the city to think about vegan food in an entirely new way.
Address: Ark, Nørre Farimagsgade 63, 1364 København, Denmark
Telephone: +45 33 30 01 50
Website: restaurantark.dk
Price: Seven-course tasting menu, about £70per person
CHRISTOFFER ROSENFELDT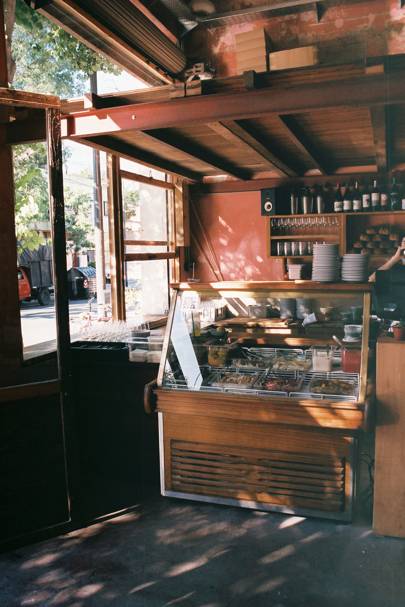 NARANJO BARBUENOS AIRES, ARGENTINA
Chef Augusto 'Aspi' Mayer and front of house Nahuel Carbajo worked together at the city's once-hottest address, the now-shuttered Proper. But they longed to open an easygoing wine bar together. While it took a year to find the perfect location, they've been nailing the concept since Naranjo raised its blinds last October. The duo convinced the owners of an antique bathroom-fixtures warehouse on busy calle Angel Justiniano Carranza, a block from hipster barrio Chacarita, to rent them the space; three months later they had the keys to the building, its façade framed by the orange tree after which the bar is named, and began an almighty clear-up job. Reclaiming existing features is at Naranjo's heart, retaining original bronze door handles while giving a new lease of life to other elements – the young crowd sits at tables fashioned from pinewood floorboards by Carbajo.Wine lovers can sample an 80-strong list that taps into Argentina's wealth of boutique vintners with low-intervention and skin-contact varieties; the bar is also a vinoteca that sells the pair's favourite bottles, such as Rocamadre Pét Nat Pinot Noir and Matias Riccitelli Tinto de la Casa Malbec. Their philosophy extends to the seasonally led, organic-where-possible dishes starring single ingredients such as charred asparagus, porchetta and cured Atlantic wreckfish. This simple passion to drink and eat well – increasingly appreciated by local diners – ensures Naranjo's place as a sustainable addition to the capital's wine scene.
Address: Naranjo Bar, Ángel Justiniano Carranza 1059, C1414 CABA, Argentina
Website: @naranjo_bar
Price: About £20 for two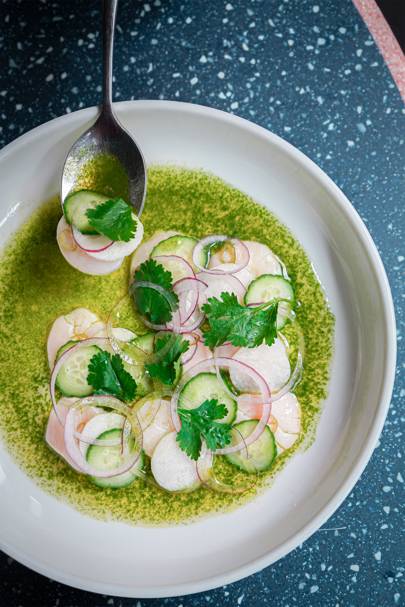 After launching the city's Little Bao in 2013, chef and LGBTQ+ rights defender May Chow scooped up award after award and appeared on the late Anthony Bourdain's TV show Parts Unknown. Her latest project is this cool Cantonese restaurant on the corner of busy Staunton Street, in the heart of Central, which pays homage to Hong Kong's cultural identity. The camp-sounding name belies the pedigree of the place, while the interiors are part Wong Kar-Wai film, part cyberpunk video game, with tong lau (tenement) tiles, vinyl booths and strips of candy-coloured neon.The menu is a surprise too, taking the humble egg waffle, found on almost every street corner, and turning it into a near-transcendent experience – the crisp snap of the batter, the fluffy spheres, that just-baked smell. Other unmissable dishes include ginger and spring-onion 'crab', which is actually cauliflower disguised as one of Hong Kong's most popular plates, and seared skirt-steak rice noodles – silky fat tubes plumped with strips of Australian wagyu and hits of seaweed butter. Seasonal ingredients including a spring-like yellowtail and cherry and radish salad also make an appearance. But it's the classics that pull in the crowds, and the cocktails. Very good cocktails, such as five-spice gin and tonic, and vodka with black tea and lemon, served in goblets decorated with pink paper flamingos. A kitsch, clubby restaurant that is bags of fun but has the flavours to match.
Address: Happy Paradise, UG/F, 52-56 Staunton St, Central, Hong Kong
Telephone: +852 2816 2118
Website: happyparadise.hk
Price: From about £80 for two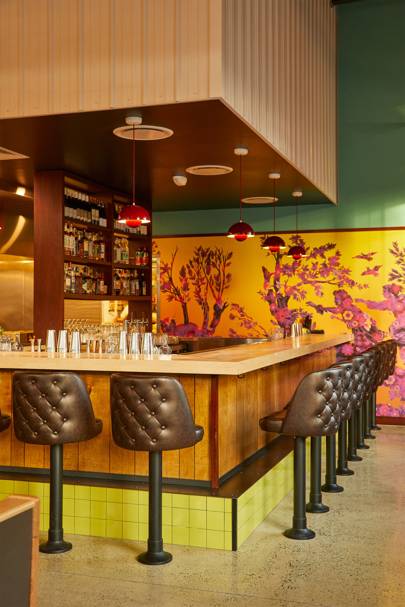 The haughty village butcher from Fiddler on the Roof is the inspiration behind the name of Steven Cook and Michael Solomonov's modern shipudiya, or skewer house, in Philadelphia's Olde Kensington neighbourhood. Their Zahav restaurant, with its soaring, singular interpretations of Israeli dishes, has long been one of Philly's most celebrated hangouts and reservations have been tough to get for more than a decade. This new joint offers a scaled-down but similarly inspired experience – and just as with its older sibling, fire is the key to unlocking unexpected flavour. In Israel, shipudiyas are as common as stateside mom-and-pop diners, but uninitiated guests needn't worry – the menu gracefully neutralises any guesswork.Pay a flat price per head, and the kitchen will promptly fill your oilcloth-topped table with creamy hummus-tehina, puffy oven-hot pita, a rainbow parade of communal salatim (salads) and hearty smoked skewers. Yes, they have the meats: Romanian beef kebabs, Persian-style koobideh and juicy chicken shishlik. But Laser Wolf also throws the non-carnivorous a substantial bone, to the tune of tamarind-slathered trout and exquisitely charred mushrooms and aubergine. Set in a high-ceilinged repurposed warehouse with a casual vibe, it has the energy of Jerusalem's frenetic Mahane Yehuda Market. The best place to sit is on a swivel stool at the L-shaped bar to work through some arak while watching the flames in the open kitchen. It's the city's most exciting newcomer – and a chance for the prolific duo to share their vision of Middle Eastern cooking with an even broader audience.
Address: Laser Wolf, 1301 N Howard Street, Philadelphia, PA 19122, United States
Telephone: +1 267-499-4660
Website: laserwolfphilly.com
Price: About £70 for two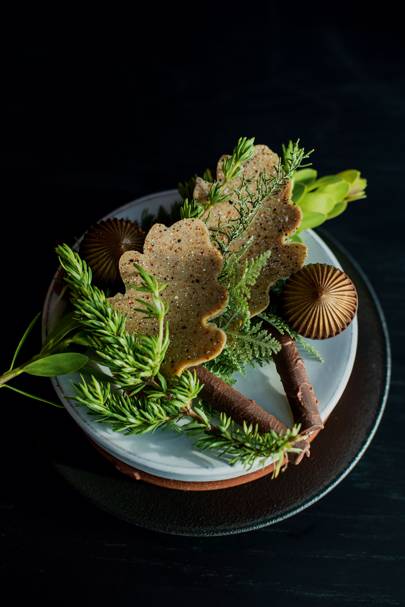 CHEFS WAREHOUSE AT TINTSWALO ATLANTICCAPE TOWN, SOUTH AFRICA
The original Chefs Warehouse on Cape Town's central Bree Street was the brainchild of chef Liam Tomlin, who introduced diners to his now-famous low-key tasting menu of eight tapas designed to share. His latest outpost is attached to Tintswalo Atlantic, a nine-suite bolthole in an extraordinarily remote setting within Table Mountain National Park. Furniture crafted by cool design studio Houtlander sets a deceptively laidback veranda scene on the water's edge, which leaves diners wondering how the food will ever match up to the surroundings – at low tide, the boulder-strewn white-sand private beach could be in the Seychelles.Although the tasting-flight formula remains the same at this seaside spot, young-gun chef Braam Beyers is left to his own inventive devices when it comes to global references and techniques. He spent four years over the mountain at Tomlin's Beau Constantia, but don't be fooled by his intricate plating and dainty flourishes. Each pretty element packs a punch in classically French combinations such as scallop, pea and truffle or heady North Indian berbere-seared tuna. From a fricassee of langoustine and leek in shrimp XO and Champagne sabayon to a simple springbok tataki, every single dish stands up to the next. Braam's energetic crew rattle off descriptions and explain the provenance of wines while keeping up a friendly banter. Reserve a table as soon as your flights are confirmed – the restaurant has been booked out since its November debut.
Address: Chefs Warehouse at Tintswalo Atlantic, W9M9+W5, Hout Bay, Cape Town, South Africa
Telephone: +27 21 541 0165
Website: chefswarehouse.co.za
Price: About £70 for twoCLAIRE GUNN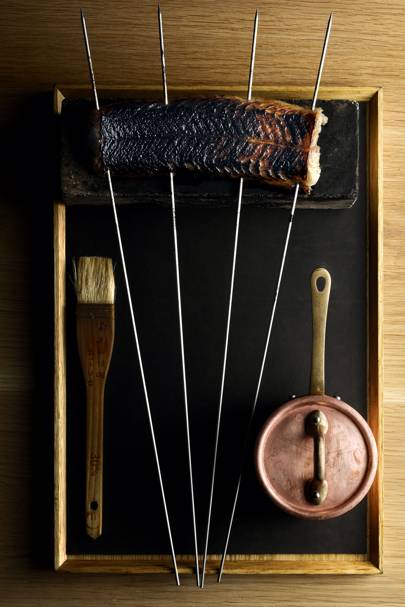 At first glance, Boxer may seem like a charcoal-walled shrine to minimalism, but don't be fooled. This 11-seat fine-drinking den by chef Ed Verner (of counter-top tasting phenomenon Pasture) and partner Hillary Eaton (a food and travel journalist previously based in Los Angeles) ripples with a high-octane theatrical energy that pushes all the boundaries. Set next door to Pasture, it's inspired by Japan's listening bars – the retro vinyl player blasts out Wu-Tang Clan or AC/DC as the mixologist at the chef-run bar performs like a one-man band around guests sitting at two oversized wooden counters. There are no spirits, only distillates, and wine is merely a base – extracted, transmogrified and doctored with ingredients such as clarified green tomato, or vacuum-packed with vanilla pods – for umami-rich cocktails.It's a Willy Wonka lab where food waste from Pasture is reinvented with scientific precision using rotary evaporators and turned into sippable concoctions including the Carrot Top and a carbonised Banana Bread. The kaiseki-style food menu, an original twist on bar snacks, is executed with the same zeal: pork-fat pretzels are served with matcha, cultured cream and salmon roe, and the sashimi is cut in front of diners from a line-caught moon fish. Order the fresh-from-the-tank lobster and it will be cooked on an open flame right there. With so many action-packed details, even the most traditionalist shaken-not-stirred cocktail drinker will joyously geek out at this genre-busting pocket-sized hangout.
Address: Boxer, 235 Parnell Road, Parnell, Auckland 1052, New Zealand
Telephone: +64 21 321 082
Website: boxerakl.com
Price: Dishes from about £6; cocktails from about £12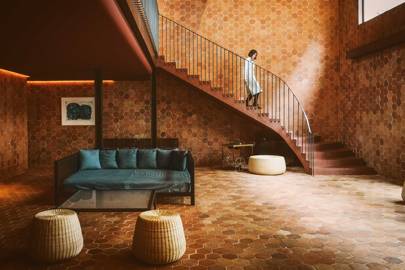 Simply 'home' for chef Sota Atsumi, this is the gritty-but-cool 11th arrondissement's first seriously elevated spot. Atsumi trained under stars Joël Robuchon and Michel Troisgros before manning the stoves at tiny Vivant for Pierre Jancou, one of the game-changers who led Paris into its new era of bistronomie. More recently, Atsumi put Clown Bar on the map with distinctive dishes including brains with dashi.But this is his very own, a dream-like space full of arty references and with a luxurious approach to dimensions: the central communal table is 25ft long and the ceiling height immense. Hefty relics hanging above the open kitchen recall the past of the building, a gabled low-rise and former workshop incongruous among six-storey mansion blocks. Dried hydrangeas are a wink to the country-house aesthetic, while hexagonal tiles everywhere create an enjoyable optical-illusion effect. The pared-down tasting menus represent a smart take on the produce-focused cooking that has become the new norm from West Coast USA to East London. There are classic tiny tarts of onion, hazelnut, haddock and beetroot, intense spider-crab bisque and monkfish with a mussel emulsion; instead of over-fiddling, Atsumi creates clever contrasts with confident plates including stickily blowtorched pigeon with his signature date-and-yuzu purée. This is a happy home indeed.
Address: Maison, 3 rue Saint-Hubert 75011 Paris
Telephone: +33 1 43 38 61 95
Website: maison-sota.com
Price: From about £80 for two
JOANN PAI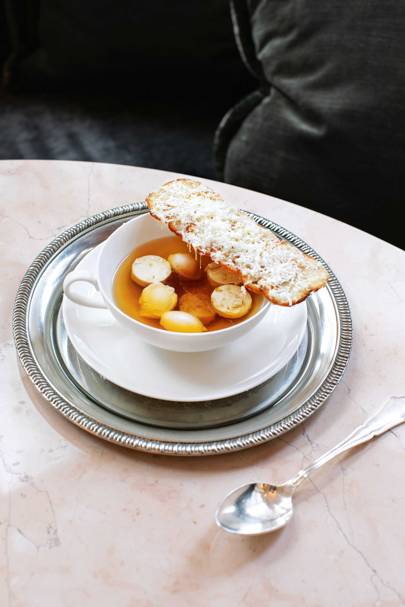 It takes chutzpah to create a restaurant ambitious enough to serve as an anchor point inside an enormous Renaissance Revival building such as Manhattan's Church Missions House. But that kind of audacious confidence is restaurateur Stephen Starr's calling card. Having opened his first outpost at 21, he is the man behind other NYC hits Le Coucou, Pastis and La Mercerie. At Verōnika, the palatial setting is the sort of space a Prussian duke would dine in, with 20ft ceilings, meticulously restored stained glass and gilded plates shining on every table.The European flavours coming out of the kitchen are an indulgent continuation of the surroundings: escargots served in a rich garlic and hazelnut butter; a feuilletée almost 10in high, filled with the juiciest heritage chicken and truffles; elegant tafelspitz reinvented with brisket, short rib and bone marrow. For pudding a baked Alaska is flamed tableside in a show that makes everyone stop and stare.You could entirely skip the fact that this is a museum restaurant, although it's sandwiched between the floors of the newly opened Fotografiska – the city's outpost of Stockholm's renowned photography gallery – and discounted tickets are available to all diners. This is not the first such foodie draw, but, unlike In Situ at San Francisco's MoMA, or Odette at Singapore's National Gallery, which are both designed to match their location, Verōnika is an intriguing counterpoint to the thoroughly modern art above and below.
Address: Verōnika, 281 Park Ave. South/22nd, New York, NY 10010
Telephone: +646 993-6993
Website: veronikanyc.com
Price: From about £120 for two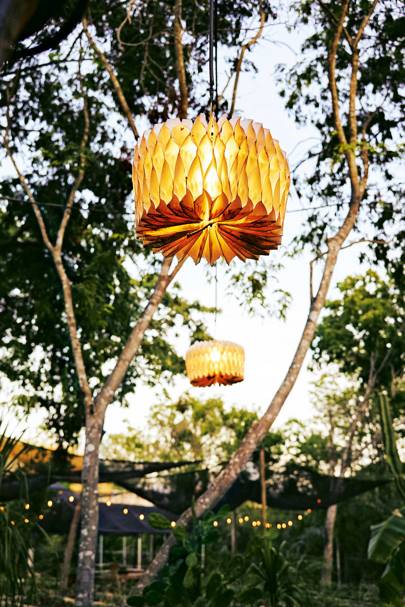 Concerned by the pressure on busy Tulum's delicate ecosystem, chef couple Maya Scales and Benjamin Coe have created a space that's almost entirely zero-waste. Distancing themselves from the jam-packed coastal road, they have turned the town's only community farm, about four miles from the beach, into a tropical plantation-house restaurant with a roof angled to collect rainwater for irrigation. Scraps are used to infuse oils and brines, and any non-compostables are turned into charcoal to cook on – there are always piles of pineapples smoking above an open fire. Everything on the menu is either sourced from local farmers or harvested on site where the focus is on non-native plants from countries with similar micro-climates.The pair have procured organic seeds from all over the world and now grow ingredients including Egyptian okra, Chinese pink celery and sub-Saharan kiwano, a fruit that looks like a cross between a melon and a passion fruit when sliced in two. Handmade sweet-potato udon noodles are laced with Trinidadian curry oil and served in a lobster consommé spiked with fresh ginger and turmeric leaves; squash ribbons are brushed with lemon verbena and topped by macadamia-nut cream and Persian blue basil; a woodfired manzano-banana soufflé comes with kaffir lime and rhum agricole. In Tulum's struggle to mitigate the shift from an off-grid beach destination to an overly developed hotspot, Verdánt's ecologically minded mission paves the way for today's conscious travellers. This is the only true farm-to-table restaurant on the whole of the Yucatán Peninsula.
Address: Chemuyil St. Km 227, Tulum, Quintana Roo 77760
Website: verdant.mx
Price: From about £100 for two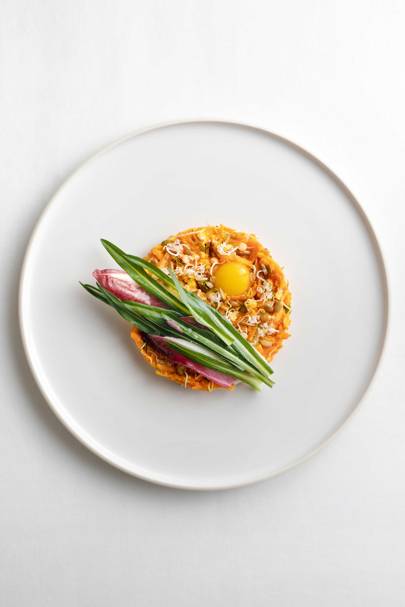 DAVIES AND BROOK AT CLARIDGE'SLONDON, UK
Chef Daniel Humm's Eleven Madison Park in New York was crowned Best Restaurant in the World in 2017. After that, unsurprisingly, things immediately got busy, but then he split from his long-time business partner Will Guidara in the midst of opening this, his first London restaurant. Six months of rumours, followed by another six months of shifting opening dates, finally saw the Swiss chef cut the ribbon inside Claridge's in December 2019. Humm was a commis chef here at just 15, and it's no secret that the delays were a result of his perfectionism. Mesmerising, muted Icelandic landscapes cover the walls, creating a disjointed panorama; a well-choreographed carousel of waiters moves clockwise around the room.But Humm is also enthusiastic in his attempts to keep it fuss free, and while there is a tasting option, diners can pick and mix from a four-course menu. His legendary duck (dry-aged for up to 14 days – those lucky enough to get into the kitchen will see them hanging in neat rows behind a glass pane) is almost as famous as he is. Here it's prepared with honey and lavender, and glazed with beetroot. But if there's one dish everyone should try, it's the caviar, served in a butternut squash with a crème-fraîche-spiked purée of miso butter. Londoners waited more than a year for this restaurant to open, and it's still where the city's best chefs want to blag a table.
Address: Claridge's, Brook Street, Mayfair, London W1K 4HR
Telephone: +44 20 7107 8848
Website: daviesandbrook.co.uk
Price: Tasting menu, £145 per person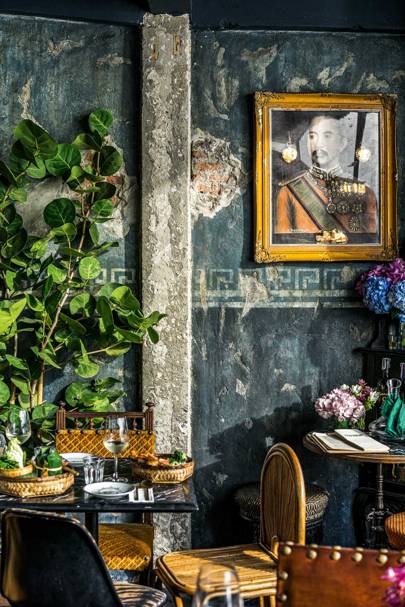 The clue to this building's former function is in the name (rongros means 'garage' in Thai, although it can also be translated as 'house of flavours'), but little else reveals that this riverside bolthole steps away from the glittering pagodas of the Grand Palace used to be an empty concrete parking box. Now, a sort of tiki-ballroom-meets-antiques-shop manifests itself with shimmering chandeliers, taxidermied peacocks, gigantic palm leaves and chairs upholstered in tiger print. While this mishmash of styles might sound like a kitsch disaster on paper, it works brilliantly. It is spearheaded by owner Ou Baholyodhin, former creative director at silk producer Jim Thompson and the force behind Siri House, one of Bangkok's most buzzed-about hangouts, and the city's who's who have taken notice.The menu draws on Baholyodhin's childhood memories and heirloom family recipes, luring in diners for a taste of the central Thai food he grew up eating. Must-orders include garlicky skewered tiger prawns with fried rice wrapped in banana leaf, cubed watermelon with mint and sun-dried snakehead fish from Sing Buri, and an indulgent beef-laden take on krapow, a spicy stir-fry. Creative drinks with lao khao – a rice-based moonshine – and fruits match the dishes' bold notes and mean that the rooftop terrace is the place to be at sundown when Wat Arun's golden spires sparkle against a candy-floss-pink sky. Clued-up Thai creatives have found a reason to venture to this area normally reserved for tourists.
Address: Rongros, 392 16 Maha Rat Rd, Phra Borom Maha Ratchawang, Phra Nakhon, Bangkok 10200, Thailand
Telephone: +96 946 1785
Website: rongros.com
Price: From about £40 for two
CHRIS SHALKX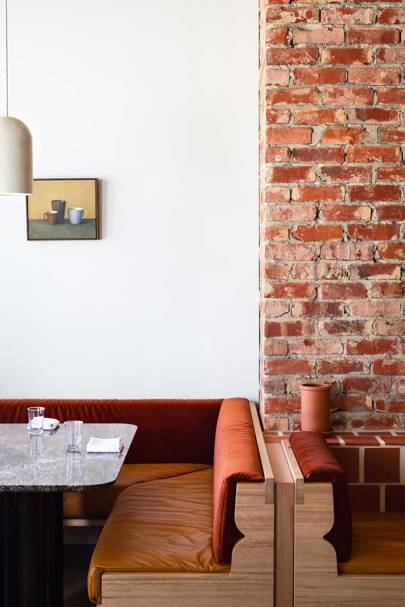 Restaurateurs Sharon Romeo and David Swain are the duo behind the beloved Fino at Seppeltsfield, a must-stop on any Barossa Valley wine tour. And now they have created a similarly unfussy farmhouse feel on busy Flinders Street in the centre of Adelaide. Paying homage to the locale are thoughtful interiors (tabletops of Harlequin Stone sourced from the Flinders Ranges, still-lifes by the late artist Bridget Ohlsson), and sensational small plates by chef Joe Carey made with quality ingredients.Formerly in the kitchen at Brae in Victoria, Carey has switched from fine dining to simple peasant-style dishes done brilliantly. On the menu are Kipfler potatoes and lemon-steamed kale on chickpea-miso-dressed witlof, DIY-dipped into egg-yolk confit, alongside focaccia heaped with charred banana peppers and fresh curd. Vivacious staff recommend glasses of light-as-a-feather Jericho rosé from the small-producer-focused wine list and deliver grilled pineapple infused with dandelion-root tea for pudding to Zimmermann-clad ladies lunching. A great address for a quick Finotini (vermouth is swapped for fino sherry), a boozy supper with friends or an all-out party. Fino Vino puts local and seasonal front and centre in a very understated, very Adelaidean way.
Address: Fino Vino, 82 Flinders Street, Adelaide
Telephone: +8 8232 7919
Website: finovino.net.au
Price: From about £75 for twoJOSIE WITHERS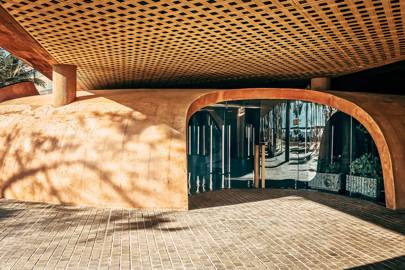 TANAMAN AT POTATO HEADSEMINYAK, BALI
Already a minimal-waste architectural showpiece, the Potato Head hotel in Seminyak has just upped its eco-credentials with the opening of its latest restaurant, an almost sci-fi take on veganism. The dome-shaped, electric-blue interior feels like a spaceship, with a reflective floor and colour-changing neon-lit columns that resemble giant lightsabers. It fits right into a place that has been designed as a sort of village for creative types to bed down but also collaborate and party.Chef Wayan Kresna Yasa takes a sustainable stab at Indonesian classic dishes with his completely plant-based food, steering away from soy-based proteins and playing with roots, pulses, fruits and fungi. The sharing-plate tasting menu is essentially a love letter to the archipelago. Expect jackfruit rendang curry braised in coconut milk, stewed and grilled banana hearts, and stuffed bitter-bean rice cakes wrapped in banana leaves. Dishes are served alongside a drinks list of homemade kombucha, medicinal tonics including a cold-pressed pineapple juice with tamarind and cinnamon, as well as 'root' beers made from ginger, galangal and turmeric left over from the kitchen. If this is a peek into the future of dining, we can all breathe a sigh of relief.
Address: Jalan Petitenget No.51B, Seminyak, Kuta Utara – Kabupaten Badung
Telephone: +62 361 4737979
Website: potatohead.co/seminyak
Price: Sharing menu, about £20 person
JOHAN HARMIDE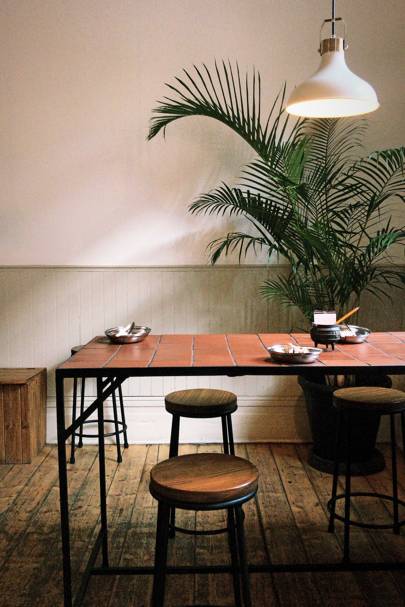 THE MELTING POT CAFETERIACAPE TOWN, SOUTH AFRICA
What started out as a tiny three-month pop-up in the city's business district has found a permanent home on the second floor of a heritage building on Wale Street. Halfway between colourful Bo-Kaap and the gothic spires of the city's oldest cathedral, the new address is as culturally diverse as the street food on the menu. Chef-owner John van Zyl learned from the best at the original Chefs Warehouse in Cape Town, and then travelled from Laos to London before dishing up what he describes as 'quality junk food' to an after-work crowd. These are fast, affordable, tasty global plates that riff on local provenance and seasonal ingredients: Chinese fried chicken bao with Sichuan mayo and pickled carrot; Cape Malay spiced fish tacos; Brick Lane salt-beef bagels, and yellowtail sashimi with fermented black-bean dressing and coconut are typical dishes on the short, sharp menu.As one of the best restaurants in Cape Town, order the 'one of everything', or sample just a couple, paired with craft beers and an equally tight edit of lesser-known wines updated almost as frequently as the menu by the sommeliers behind hit wine bar Publik. In a fiercely competitive city, where many of the best restaurants are owned by a handful of high-profile chefs, The Melting Pot has developed a cult following by allowing the razor-sharp flavours, laced with nostalgic travel memories, to do the talking. There are no reservations, so arrive early and sip the medicinal-strength cocktails in the secret gin courtyard downstairs while waiting for a table.
Address: Melting Pot, 64A Wale street, Cape Town, 8000
Telephone: ‭+27 (71) 525-8875‬
Website: instagram.com/meltingpot_streetfood
Price: From about £40 for two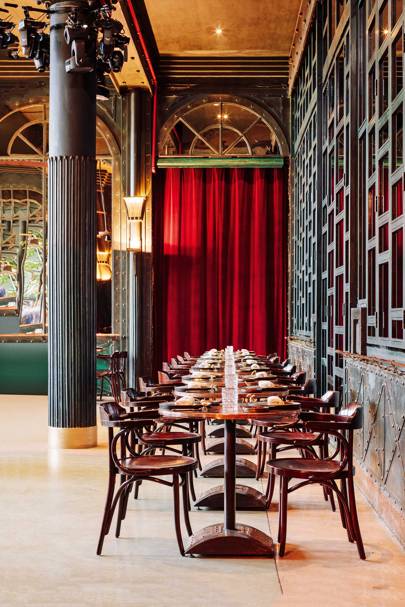 On a quiet side street in the up-and-coming Alcântara neighbourhood, past dilapidated warehouses covered in fly posting, a neon sign flickers above two emerald-green metal doors. Once inside, the urban grime is fast forgotten. A marble-floored area flanked by red velvet curtains leads into an enormous room with 16ft-high ceilings studded with metal struts and brass lighting reflected in vintage mirrors. This converted warehouse, formerly known as the Alcântara Café, was at the centre of Lisbon's nightlife in its Eighties heyday. Now, the restaurant, by Eneko Atxa (at one time Spain's youngest chef to hold three Michelin stars), is modelled on the kind of cooking he was taught by his mother and grandmother.To start there are piquant salazón anchovies on fried bread, delicate tempura squid and an earthy yet sweet beetroot tartare. Mains include one-pot dishes such as clams in herby green sauce alongside charcoal-grilled lamb carré and a nutty whole cauliflower confit. On the drinks list is Txakoli, a light, dry white wine from the Basque Country sourced directly from the family vineyard and served in small barrels rather than bottles. With Basque, Atxa has brought this spot back to the centre of the city's nightlife scene, with DJ sets on weekends adding a louche touch and echoing the building's bohemian soul.
Address: Basque, Rua Maria Luisa Holstein, 15, 1300-388 Lisboa
Telephone: +351 215 833 275
Website: enekoatxalisboa.com/basque
Price: From about £70 for twoFRANCISCO NOGUEIRA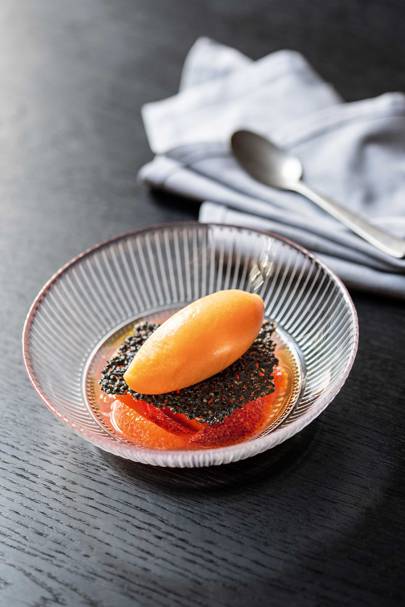 LOLACOPENHAGEN, DENMARK
This 18th-century windmill has recently undergone an extensive renovation to welcome the return of one of the country's most forward-thinking chefs, Kamilla Seidler. Having spent much of the past six years in La Paz, Bolivia, Seidler helped found one of South America's foremost restaurants with Gustu, based on the seasonal principles of the New Nordic food manifesto. But with Lola, she's moving things on with a wider-roaming roster of dishes influenced by Indian and central American cooking. A highlight is squid podi in fermented beurre blanc sauce; another is inspired by the El Salvadorean pupusa, a kind of pita bread, served with kimchi and horseradish cream; and there's a surprisingly hearty paratha with Indian spices and a double helping of the Scandinavian staple, celeriac. For pudding, chanterelle ice cream with buckwheat and salted caramel really shouldn't work but does.To drink, the limited-edition oolong-mirabelle kombucha by local company Læsk is addictive. Best of all, the quality of the food is underscored by considerations of sustainability, and several of the staff are hired and trained as part of a programme to employ those from the fringes of the labour market. Offering a contrast to the capital's other headline-grabbing new restaurant, Rasmus Munk's epic, multi-million-dollar playground Alchemist, Lola is at the forefront of the new global social gastronomy movement.
Address: Lola, Christianshavns Voldgade 54, 1424 Copenhagen K.
Telephone: +351 215 833 275
Website: restaurantlola.dk
Price: From about £100 for two
Source:  TABITHA JOYCE