Gas price rise: Rescue loans for energy firms urged in crisis talks
The government is considering offering emergency state-backed loans to energy companies as firms battle to stay afloat amid surging gas prices.
Business Secretary Kwasi Kwarteng will hold crisis talks with industry bosses including Centrica and E.On on Monday.
Smaller suppliers face ruin as price hikes have made their price promises to customers undeliverable.
The UK's sixth largest energy company, Bulb, is seeking a bailout, while four smaller firms are expected to go bust.
At the beginning of 2021 there were 70 energy suppliers in the UK, but industry sources have said there may be as few as 10 left by the end of the year.
Recent price hikes have left some companies unable to provide their customers with the energy they have paid for.
Industry group Oil & Gas UK said wholesale prices for gas had increased by 250% since January – with a 70% rise since August.
If a supplier fails, energy regulator Ofgem will make sure affected households continue to be supplied, and will not lose money owed to them.
A new energy supplier would be responsible for taking on any credit balances a customer may have.
But the process for dealing with failing firms has come under pressure as adopting customers is less attractive for surviving companies due to spiralling wholesale prices.
The state-backed loans may be offered to encourage firms to take on customers, although Foreign Office minister James Cleverly told BBC Breakfast on Monday that "ideally" businesses should stay afloat "through their own efforts."
Supply problems
Prime Minister Boris Johnson, who is in New York for a UN General Assembly meeting, said the problem was "temporary".
He said that he was "very confident" in the UK's supply chains and that market forces should be "very, very swift" in fixing the issues but that government would help where it could.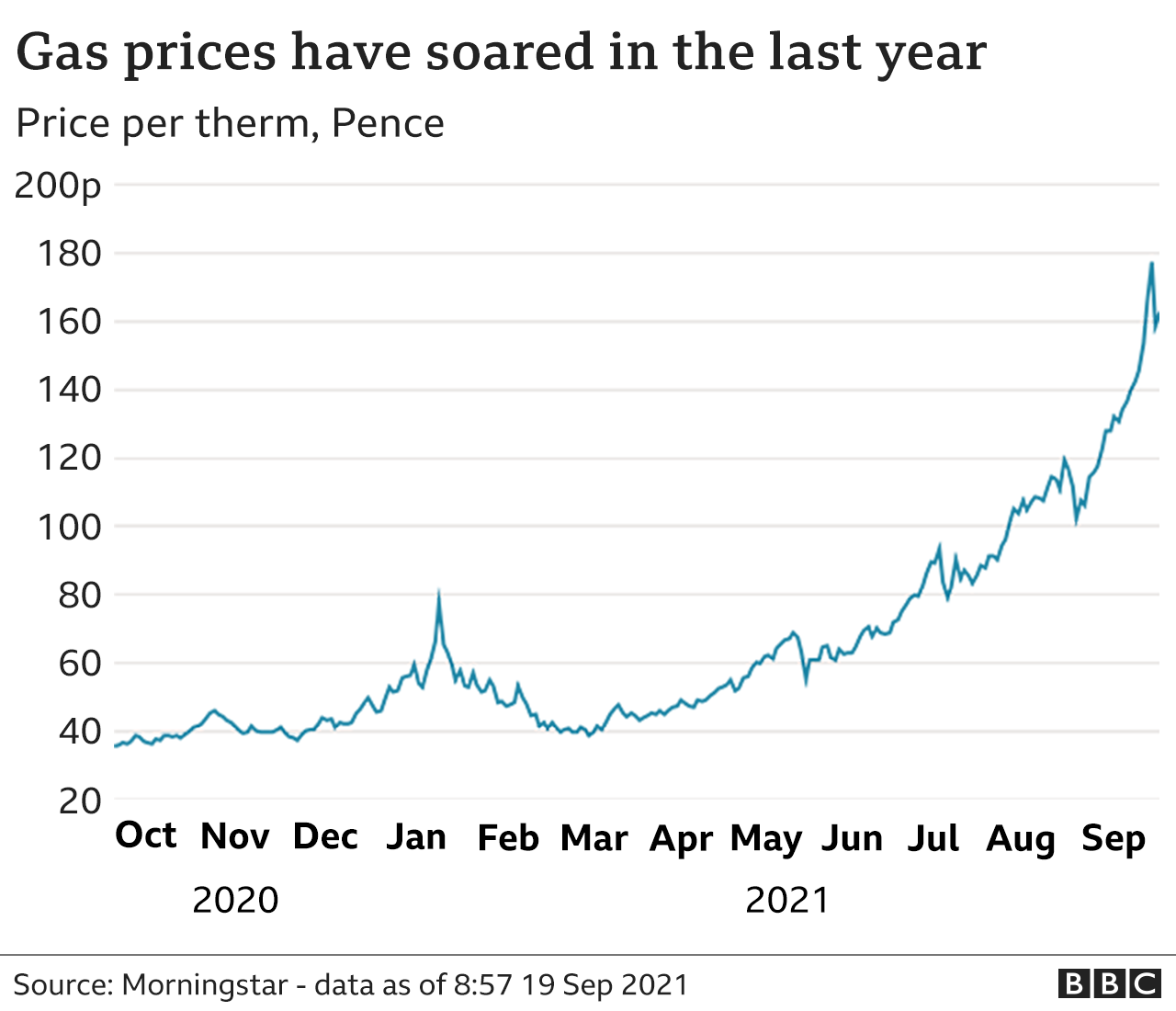 Increased demand, particularly from countries in Asia which also experienced cold weather, has added to the pressure on prices.
Nick Butler, visiting professor and chair of The Policy Institute at King's College London, told the BBC's Today programme that a reduction in supply from the United States, Russia and the North Sea was also playing a part, as well as limited storage facilities for gas in the UK.
"The government has taken their eye off the issue of energy security," he said. "All of the focus in Whitehall has been on climate change. For the moment, we're very reliant on oil and gas and when gas gets short in the world market, it hits back here."
Source: BBC